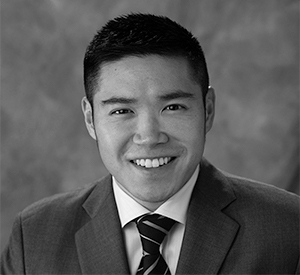 Kevin Ching, Vice President & Partner
Kevin started his career in Commercial Real Estate in 2008 managing a family owned portfolio of Retail Shopping Centers and Multi-Family Apartment Complexes in the San Gabriel Valley. His increasing interest in Real Estate led him to join Lee & Associates in 2011 after graduating with a Bachelor's degree in Business Administration from USC. Teaming up with industry veteran Jeff Bethel, Kevin chose to specialize in the Leasing and Sales of Industrial Buildings in the sub-markets of San Gabriel Valley and the West Inland Empire. He has consistently remained one of the top performing associates and within 5 years of joining the company, he became the youngest shareholder and principal. His intense focus and friendly demeanor has made him a popular rising star in the local brokerage community.
Justin Chiang, Vice President & Partner
Justin Chiang graduated from the University of Southern California with a Bachelor's degree in International Relations Global Business and a Minor in East Asian Languages and Cultures. Shortly after graduating from USC, Justin began his career in commercial real estate. Since Justin first started his career in Commercial Real Estate, Justin has sold and leased industrial properties, land development sites, R&D Facilities, Investment Properties and Commercial Properties throughout the San Gabriel Valley and Inland Empire. He has worked with properties with environmental issues, easement and title issues and has the experience and know-how to solve and navigate through these obstacles to help his clients sell and purchase their properties.